The Worst 5 Fashion Faux Pas
by Tara Roe
5. Cher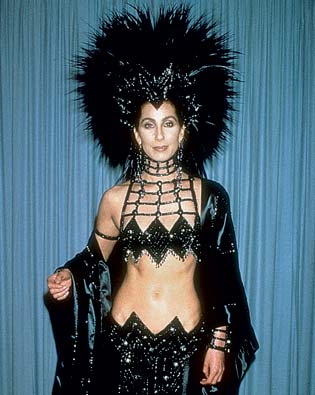 "Yeah, what you looking at?"...er you.
Cher's 1986 Oscar dress has gone down in fashion history as one of the worst faux pas ever made at the Academy Awards.
Always known for her outlandish fashion sense and skin flashing tendencies Cher truly outdid herself at the event; fashion critics around the globe were left unimpressed by her bare midriff and enormous head piece.
4. Christina Aguilera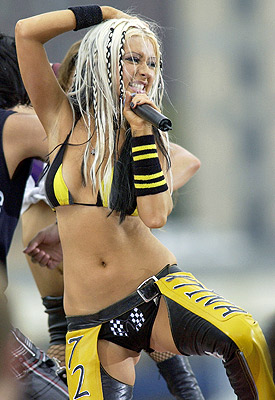 Class!
Christina Aguilera was determined to shake off her good girl image when she donned a pair of chaps while promoting her 2002 album Stripped.
It did the trick.
She shocked the world, was featured on every Worst Dressed List and no man wanted to take her home to meet his mother.
After the success of the album she thankfully decided to put away the chaps -  realising there was no longer any need for them - and adopting a Hollywood retro look which she still adheres to today.
3. Lil Kim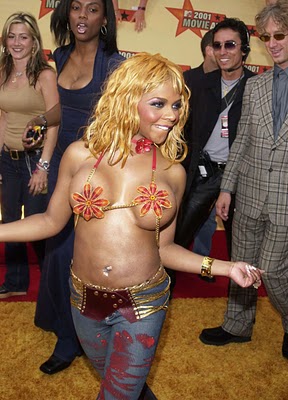 The lady in blue's expression says it all.
Lil Kim is a walking fashion disaster, providing a smorgasbord of fashion faux pas' to choose from.
We eventually settled on this particular outfit that the tiny rapper wore to the 2001 MTV Movie Awards. With a pair of jeans and only a couple of flowers covering her nipples she managed to horrify everyone in sight.
2. Jodie Marsh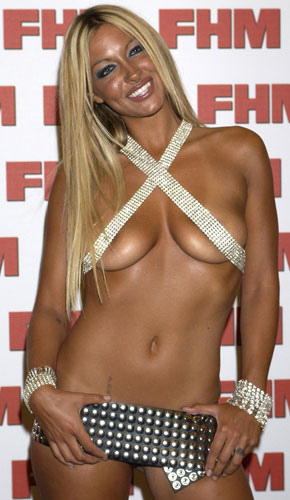 Ingenious use of belts.
The former glamour model became adept at courting tabloid attention with her outlandish outfits, culminating in a tour de force which was her belt outfit worn at the FHM Awards.
Marsh was splashed across every paper and the outfit became a water cooler moment.
1. Bjork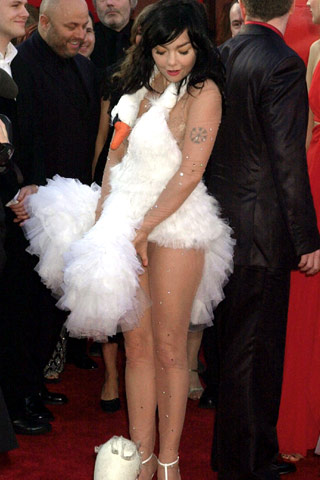 "Oh, look, I dropped an egg...as you do."
Bjork's swan outfit designed by Marjan Pejosk, and worn at the 2001 Oscars stunned everyone then reduced them to giggles.
The outfit is still talked about to this day and is never left out of a Worst Fashion Mistake List; in fact it's rare that it doesn't come in at Number One as the worst mistake itself.
People were not sure what to make of the singer's efforts. Undoubtedly creative many thought she must have been trying to make a point.
In a later interview Bjork is quoted as saying; "I can't believe people are still talking about the swan dress…It was a joke. I find Hollywood dress sense very alienating. Obviously, I was sticking my tongue out at it.
"I had six eggs with me and I distributed them around the red carpet. And all the lifeguards (bodyguards) for the stars were like, 'Sorry, ma'am, you dropped this.' It was hilarious.
"The weirdest thing is everybody thought I was trying to fit in but that I somehow got it wrong. Does it look like I was trying to fit in?"
Contributor Blurb: Mary is a junior buyer for a major high street retailer, she has a passion for fashion and her ultimate style icon is Kate Moss.