Hungry Donkey - inspired by Hellenic street food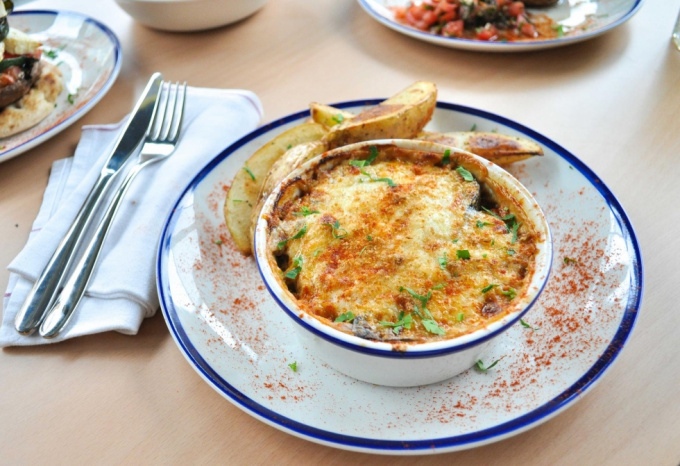 Hungry Donkey is the new Greek restaurant that's opened up in the City of London; it's a heartbeat away from Aldgate East tube station and it's a find!
The attention to detail is everywhere to see, from the branding, to the decor to the friendly service.
The menu is inspired by Hellenic street food with pitas, souvlaki and Moussaka all featuring prominently.
We ordered the lamb and greek sausage pita and a whole host of sides; pan-fried saganaki cheese, zucchini fritters, chips and htipiti feta dip - and it was all delicious.
The chips are probably some of the best I've ever had and that's saying something considering how chips are served pretty much everywhere; you'd be forgiven for thinking you taste one chip, you taste them all but in the case of Hungry Donkey, that's not true. I have no idea how they managed to get them to taste so good but at only £2.50 a portion I'd recommend adding them to your order.
I'd never tasted htipiti feta dip before and that's pretty special too - so special that I looked it up online afterward, I believe it's a roasted red pepper and feta dip and Hungry Donkey put a little bit of additional spice on it that gives it a nice little kick. 
One of the best things about the food is that it's pretty healthy - I'm normally full of guilt after eating out because of the high fat, high sugar, high salt, high whatever I have eaten but that simply wasn't the case at the Hungry Donkey - yeah, I had a few chips but in the scheme of things I felt I'd been offered a great range of choices that didn't have me feeling I'd need to hit the gym the next morning.
The atmosphere in the restaurant is relaxed; and I don't know if it was the cool decor, the good food or the smiling service but we lingered after dinner to chat for longer than normal. 
We loved this place and we're definitely planning to go back again!
---
Hungry Donkey have a really nice social networking presence - all correspondence is made by the donkey mascot which is pretty fun:
Hungry Donkey facebook (you can find the full menu on their page)